Handcrafted loom rugs
100 % wool handwoven rugs
Immerse yourself in the odors and textures of the wilderness of Patagonia lands where Merino sheep graze.
Experience the earthy colors of South American mountain regions and rural landscapes and enjoy the art brought to you by the hands of traditional artisans and their age-old techniques.
Understanding the Craft Manufacturing Process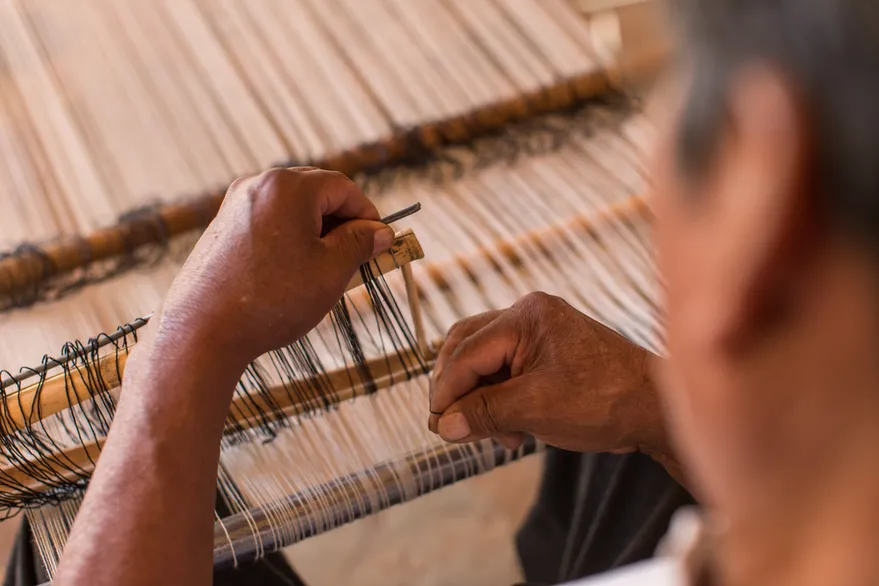 About our area rugs
Our handcrafted pure merino wool rugs and blankets are a testament to timeless elegance and superior craftsmanship, adding a touch of luxury to any space.
Each rug and blanket is meticulously woven by skilled artisans using only the finest, ethically sourced merino wool, renowned for its softness, durability, and natural resilience.
The intricate designs of our rugs are inspired by nature, art, and cultural motifs, resulting in truly unique pieces that tell a story and evoke a sense of beauty and harmony.
Discover Handmade Elegance!
About the QOM collection
Handwoven, unique wool bedside rugs, tapestries, and runners.
QOM Community makes them, and we collaborate with this community, supporting fair trade practices and empowering artisans to preserve their traditional skills while earning a sustainable income.
Each piece is a labor of love, taking hours of intricate weaving, knotting, and finishing touches to create a masterpiece celebrating handcraftsmanship.
Awaken Your Home's Soul!
About our blankets
These are pure Merino wool handwoven blankets.
The natural fibers of Merino wool provide excellent insulation, keeping you warm in cold weather and cool in warmer seasons.
Merino wool has inherent moisture-wicking capabilities, helping to regulate body temperature and keep you dry and comfortable.
Handwoven wool blankets are thicker and denser than industrial fabrics, providing better insulation and warmth during colder seasons.
With a focus on sustainability, the colors you see are made using eco-friendly processes and dyes, ensuring a low environmental impact without compromising quality or style.
Crafted for Your Joy!
Five-star rugs loom crafted.
FAQs
Why buy our rugs?
With one of our outstanding rugs, you will dress your rooms and define your space with a unique piece of art, adding a touch of authentic and pleasant softness, warmth, and calm sensations.
Are these rugs traffic-resistant?
Absolutely! Woolen rugs have been with us since immemorial times. Due to the handcrafted torsion of the wool, there is no overstressing of the yarns, making them highly resistant to everyday use.
Can I customize my rugs?
Yes, you can. Personalized color and design orders must be made by contacting our customer service on the contact page. Consider that the process takes about 45 days and about six shipping days.
How do I take care of my rug?
The only maintenance needed is cleaning. This is a three-step process: first, vacuum its front, second, vacuum its backside; and finally, vacuum its front again. This process should be done gently and regularly with no brush to avoid peeling. In case of liquid stains, clean them with a mix of water, white vinegar, and neutral detergent. If deeper cleaning is needed, only dry cleaning guarantees results. Never hand-wash or use washing machines or dryers.
Do I have to use a rubber anti-slip mat?
An anti-slip rug pad is a must-do while placing the rugs on the floor to avoid accidents. Put the rug pad under the rugs and trim off protruding edges. If you put the rug over another carpet, no anti-slip pad is needed.
How do I take care of the colors?
Although the rugs' strength and durability are not affected, we recommend no direct sunlight or intense light exposure to avoid the discoloration of their natural colors.
Final advice.
Please do not care about the creases when folding time; they will disappear after a while and after everyday use. Always use an anti-slip mat under the rug. These are handmade products so that you might expect wool strands and fluff. Remove them carefully with scissors or let them be: they will remind you of the artisanal product only a few people own. Never place the rugs on a wet floor. After years of use or depending on the area you place them (low or high traffic area), peeling may arise; shave the rugs carefully with a hair or beard trimmer.